Samy Vellu's bank account the subject of police report
Susan Loone Mon Jan 12th, 2004
"Keadilan can go to hell" – Samy Vellu
"Samy Vellu himself is hell, where else to go" - Anwar Ibrahim

A great orator in Tamil and a master politician
Like it or not, Samy Vellu will stay on By ABDULLAH AHMAD
An Exclusive Interview With Datuk Seri S. Samy Vellu
The MIC's relevance to society
By Balan Moses and Patrick Sennyah

Samy: Nothing for Indians in 8MP
May 17, 06 6:42pm, Malaysiakini

MIC president S Samy Vellu has criticised former premier Dr Mahathir Mohamad for not giving anything to the Indian Malaysian community under the Eighth Malaysia Plan (8MP).
According to a front-page report in Tamil daily Makkal Osai today, Samy Vellu said Mahathir had promised 'this and that but in the end told the community nehi ('no' in Hindi)'. (.....more)
Samy puts his foot in his mouth
18/05/06 "Former PM Dr. Mahathir gave nothing to Malaysian Indians" says Samy Vellu as reported by Makkal Osai, yesterday.
Now, Samy Vellu puts his foot in his mouth, accusing the paper of twisting his words and threatening lawsuits to silence his critics. Worried of negative impact on his statements, he has quickly moved to do some damage control by heaping praises on Mahathir.
Samy: Dr Mahathir gave us a lot
What A big Lies Of samy vellu!!!
MIC cronies benefitting at expense of Indians K Narayanasamy
Some Indians don't like me. They tell educated people not to respect me and some even call me a rascal. Despite that, I'm still well liked

- Samy at a by election. 19/07/02

Samy's Top 10 reasons on why you must vote for him:

| | |
| --- | --- |
| 10. | I'm 66 Not 86 |
| 9. | 10 million Telecom shares hijack happened 10 years ago. |
| 8. | Guess who has the majority stake in AIMST medical college. |
| 7. | MIC leaders beg and cry to me for seats, Yeah! |
| 6. | Nobody can match my 24 years cabinet minister's experience. |
| 5. | Promised to erect a 30 story building by 1986. I need more time, say by 2086. |
| 4. | Me! the owner of MIC land? |
| 3. | You voted me 8 times before. |
| 2. | Trust me; I have no role in the demise of South Indian Labor Fund. |
| 1. | I'm the lord of the Indians. |

1936
Born on March 8th. in an estate near Kluang, Johor. Parents were rubber tapers brought by British colonialist to work in Plantations.
1950

Bus Conductor GTC Bus Company.

Later became an office boy in an architect firm.
Mother died.

1957
Father died.
1961
Contested for MIC Selangor and lost.
1962
Head, MIC cultural bureau.
1967
Selangor MIC Secretary.
1972
Became an architect.
1974
Won Sungai Siput, Perak parliament seat by 146 majority.
1975
Received the highest number of votes for MIC Vice-President.
1977
Knocked out S. Subramaniam -the then MIC secretary general and President's candidate - by 26 votes to become MIC Deputy President.
1979
MIC President.
1981
Moved to sack S. Subramaniam from the party but changed his mind at the final moment.
1989
Shrugged off a challenge by S. Subramaniam for the President post.
1990
Telecommunications (STM) share scandal.
10 million shares were allocated to Maika Holdings by the government but only 1 million shares went to Maika and the rest were channeled to Clearway Sdn. Bhd, S.B.Management Services and Advance Personal Computers Bhd. After investigation, anti-corruption agency cleared Sami from any misappropriation.

PM, DPM Praise Samy Vellu For Dedicated Service To Nation, People

Oct 25 (Bernama) -- The evocative glimpses into the past, contained in the book "Samy Vellu - As We Know Him", clearly and collectively depicts a man whose life has been dedicated to serving the nation and the people, Datuk Seri Abdullah Ahmad Badawi said. (.......more)

Samy's Top 10 reasons to throw out Subra from MIC deputy president post.

10.

I want to be a life time president.

9.

Subra will erase my legacy

8.

Palanivel kisses squatter babies. Subra is at Chakravarthi …

7.

Subra is not listed in my "Chai Tan".

6.

Subra uses Nanban to whack me.

5.

UMNO, Gerakan, MCA threw their deputies. Why not me?

4.

MIC delegates will vote for any donkeys I support

3.

Subra is a 'joli joli' guy.

2.

Palanivel is Samy's boy.

1.

laka…laka.. lakalaka….. lakalka…….. aaaaaaaaaaa…. saaaamy

'Samy Vellu -- As We Know Him' To Be Launched Tomorrow
Oct 24 (Bernama) -- A coffee table book entitled "Samy Vellu -- As We Know Him", to be launched Thursday, will provide an insight on a leader who has become almost a legend in the Malaysian Indian community. (........more)

Samy Vellu Hits Back At NGO

By S. Retnanathan

PUTRAJAYA, Aug 17 (Bernama) -- MIC president Datuk Seri S. Samy Vellu today launched a stinging attack against a non-governmental organisation, the Hindu Rights Action Force (HINDRAF), which claimed that the Barisan Nasional (BN) government had done little to address the woes of the Malaysian Indian community over the last 50 years. (......more)

Speaking at the Johor BN convention on July 25, the prime minister Mahathir quipped that it was very cheap for him to treat Malaysian Indian Congress president S Samy Vellu to a meal because he was a vegetarian.
All he had to do, Mahathir said, was to go and cut some blades of grass to serve the MIC president. Mahathir subsequently apologised for the joke.
Mahabharatha started in MIC says Samy in a closed door meeting held in Puchong for MIC branch leaders of Puchong, Serdang and Subang divisions. Malaysia Nanban headline - 16/09/05.

Some excerpts from samy's speech:

"I have been president for several years but till today never gave away anything to my family that belongs to Indian community. MIC got 5 petrol stations and I gave it MIC."

"55 police reports were made accusing me of swindling Maika holdings money. When did I ever manage Maika? Velpaari (Samy's son) went in only when Maika was about to collapse and he saved it"

"Lots of problems in society but some are playing politics from morning till night."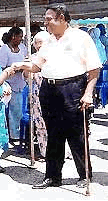 pic: the star
Samy: Government action needed for Indians to get 3% equity "If it doesn't happen in the next five years (when the OPP3 runs out), there is no point in talking about it anymore. What is the point of meeting in forum after forum on how to achieve the 3% equity?
"If nothing happens by then, we won't ask anything from the Government anymore. We'll close shop," he said after attending a briefing on economic issues by the National Economic Action Council to 500 Indian corporate leaders and politicians here yesterday. - The Star 14/10/05
"Malaysian Hindu Sangam is sleeping while our Hindu religion being denigrated." – Indrani Samy Vellu (Makkal Osai, Mar, 07)
"Only now I'm sleeping peacefully". – Samy Vellu, The Lord of the Indians (Straits Times, Mar 07)