International Labor Organization (ILO) defines plantation as: . any agricultural undertaking regularly employing hired workers which is situated in the tropical or subtropical regions and which is mainly concerned with the cultivation of production for commercial purposes of coffee, tea, sugar-cane, rubber, bananas, cocoa, coconuts, groundnuts, cotton, tobacco, fibers (sisal, jute, and hemp), citrus, palm oil, cinchona or pineapple; it does not include family or small scale-holding producing for local consumption and not regularly employing hired workers.
Monthly wage set too little, say NGOs
Leong Kar Yen and Susan Loone
Minimum wage row splits workers, govt
By Anil Netto
Pathetic ! Pathetic ! RM 325 minimum monthly wage after 52 years of struggle.
Sunday 05/27/2001 3:40:42am
R.VIDYANANTHAN
BATU PAHAT ,JOHOR
WHEN WE ARE ONE AND UNITED WE WILL BE A STRONGER SOCIETY.
Malaysia's cheap pesticide sprayers pay with health
By R Mageswary
Asia Times Online ......According to the World Health Organization (WHO), some 37,000 cases of cancer occur annually due to exposure to pesticides. Various reports in recent WHO journals also reveal that 25 million agricultural workers in developing countries suffer an episode of pesticide poisoning each year.
The daily wage for plantation workers under the collective agreement and real daily wage.

1968

1972

1976

1979

1986

1990

1995

1999

2000

Daily wage(RM)

3.10

3.20

3.60

4.30

7.90

8.75

10.40

11.50

CPI

100

106

148

168

227

247

300

348

Real Wage

3.10

3.02

2.43

2.56

3.48

3.54

3.47

3.30

Calculated by the support committee for plantation workers after taking into account the inflation rate measured by CPI (Consumer Price Index).

Source: Bank Negara report.

National Union of Plantation Workers (NUPW)
1954
Amalgamation of all the small plantation unions
Represents:
Plantation workers in the manual, semi skilled categories of workers in Peninsular Malaysia
Memebership:
50,000 (mainly Indians)
Objective:
Collective bargaining, Industrial relations, projects and programmes for the improvement of the quality of life of plantation workers especially with regard to education, housing and health of members and their children.
President:
Narayanasamy. A
Address:
P.O.Box 73, 46700 Petaling Jaya.
Telephone:
7782-7622, 7782-7718, 7782-7861
P. P. Narayanan held tight control as General Secretary from 1954 till 1993.

"With dwindling membership and loss of what little influence it had in the past, NUPW is now staring at its own demise in the future. Plantation workers union slammed for failures by Ajinder Kaur
Whether the NUPW can really champion the rights of plantation workerstoday remains doubtful.....(more)
Toil of the migrant women .....Women comprised one fifth of the total labour force of Malaya in 1931, of which 19% were Chinese and 22% Indian. Agriculture was the largest user of Chinese (53%) and Indian (84%) female labour. Rubber cultivation alone employed 70% of Indian women and 29% of the Chinese women. Besides all the work they did outside their households, most of them also worked in their own households and towards the formation of the family.
Total estates and workers involved in the conversion of estates into other development purposes

States

# of Estates

# of workers

Selangor

13

1,126

Perak

11

214

Kelantan

3

94

Kedah

10

1,406

Negeri Sembilan

11

297

Malacca

11

345

Pahang

4

383

Johor

24

936

Total

87

4,801

Rubber Tappers

23,000

General Workers

28,000

Palm Oil Mill Workers

11,063

Foreign contract workers

116,000

1,202 estates in the country covers a total of 3.5 million hectares
Workers Struggle
Bukit Tinggi Estate, Klang
68 workers lost their jobs as well as their homes when this estate was sold for RM 186 million. These workers are requesting:

Monetary compensation of RM 1000 per year of service.

Alternate housing - 3 room terrace house at RM 25,000.

Settlement through dialogue.
Bukit Tinggi Cattle Rearers
13 families have been rearing cattle in Bukit Tinggi for the past 50 years. They have about 800 head of cattle and goats at present. Eviction order has been given.
Strathisla Estate, Perak
4 years of struggle paid off. On 13/0502, a consent agreement was recorded in the Ipoh High Court between State owned Corporation and 20 former workers:

20 workers were given 45 X 80 feet housing lot free of charge.

RM 650 per year of service.

7 acres of land for resiting the school and temple.

This man brought rubber seeds from Brazil in 1876.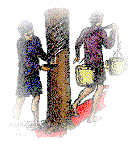 In front of the tree we can see him; behind it you know la, so how can the minister make a stand or support monthly salary:- Primary Industries Minister Lim Keng Yaik
Mariammah with 6 children toiled 20 years in Kamiri Estate, Perak. Her retrenchment benefit: US $ 2,640
(Source: Ladang Kamiri(62), Div. No. 1 Data Dec 99)
Estate workers lodge police reports against Guthrie ............the manager gave orders that the "drains in the vicinity of the houses of the retrenched workers should not be cleaned; nor the grass around their houses cut; or rubbish collected; and that their septic tanks allowed to remain in disrepair".
Malaysian Agricultural Producers Association (MAPA) ......Represents 184 companies having 461 estates.
'It's a Form of Slavery'
The suffering classes -- plantation workers
Asia Week.... Malaysia's plantation workers -- over half of whom are ethnic Indian -- are its most abject citizens. Their wages are pitiful, their housing wretched, their children's education lacking and their health care negligible.
Fed Up, Rubber Workers Rise in Protest
By Anil Netto, IPS
4 May 1999.....Shanmugavalli Rajagopal, 43, is one determined woman. Retrenched as a rubber tapper in July, she has been asked to vacate her plantation house.
Monthly Wages...What Monthly Wages?
The plantation industry should close shop if it is not prepared to pay decent wages.
by A. Sivarajan